What does Pont to reduce its CO footprint?
Indeed a good question, what do we do to reduce our Carbon footprint?
Click to read Get the Grip on Green #16

​
In the last  Grip on Green Pont's beehive was introduced to underline our support to the environment. As addition to this, we just want to summarize, what else we are currently doing in regards to this. We as Pont are of course trying to keep the Carbon footprint of our actions as low as possible and do our best to save resources.
Some examples of what we are doing so far:
Offices:
Most of our offices are regulated automatically for light and water
Usually, the heating & cooling can be regulated partly, so we avoid wasting energy
Where aren't already LED lights, we will replace the broken lights by energy saving LEDs
Replacing single-use plastics by long-lasting or refill alternatives in our daily behavior
We avoid printing to use less paper, as well as for promotional material like brochures, flyers and give the priority to digital communication
Installed professional video conference equipment in each office in Europe to minimize business trips where possible
Production:
We do our best to plan and do production in the most efficient way to save time, energy and costs
We try to use less material to produce the same high-value products
We avoid any leakage or pollution by production plants and reducing waste through process optimization
Transport:
Together with partners, we are reusing carton boxes for shipments
Our plastic packaging are light-weight products, so the amounts are high, while the transportation effort is low. We do our best to transport our goods in the most efficient way. Which means keep ways short, only transporting full loads, working with local logistic companies, etc.
"A meaningful activity with the family. The insect hotel can be put together yourself with the supplied nails, hammer and wood glue. All kinds of beneficial insects will find their way to the garden.This insect hotel is home to a variety of insects such as gentle wild bees, which pollinate the flowers, and earwigs, which fight aphids in the garden."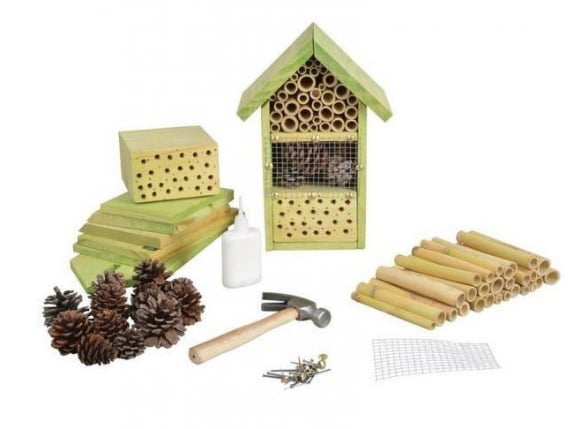 ​
Due to the rapid evolution of the sustainability into the packaging sector as well as local differences of recycling processes and law, information provided within this document are for information only.
We advise you to check your local regulation's update.